Filmography


Documentaries
Elena Lee Pioneer Gallerist (Elena Lee Galeriste Phare)
Portrait - documentary 40 minutes
Director: Danièle Bellemare Lee
Camera: Danièle Bellemare Lee, Mark Lee
Extra pictures: Marc-Antoine Reid, Olivier Colpin, Mireille Ayotte, Janne Reuss, Eric Blouin, Marie-Ève Drolet et Caroline Rivest
Editing: Danièle Bellemare Lee. Music: Sylvie Payette
With: Elena Lee-Galerist, Joanne Guimond-Director Galerie Elena Lee 1989-2004, Diana Walton
Director Galerie Elena Lee 2010-2014
Artists: Patrick Primeau, Annie Cantin, Caroline Ouellette, Maryse Chartrand, Sébastien Duchange, Carole Frève, Montserrat Duran Muntadas, David Frigon-Lavoie and featuring the works of 30 artists including Daniel Crichton and François Houdé.
Synopsis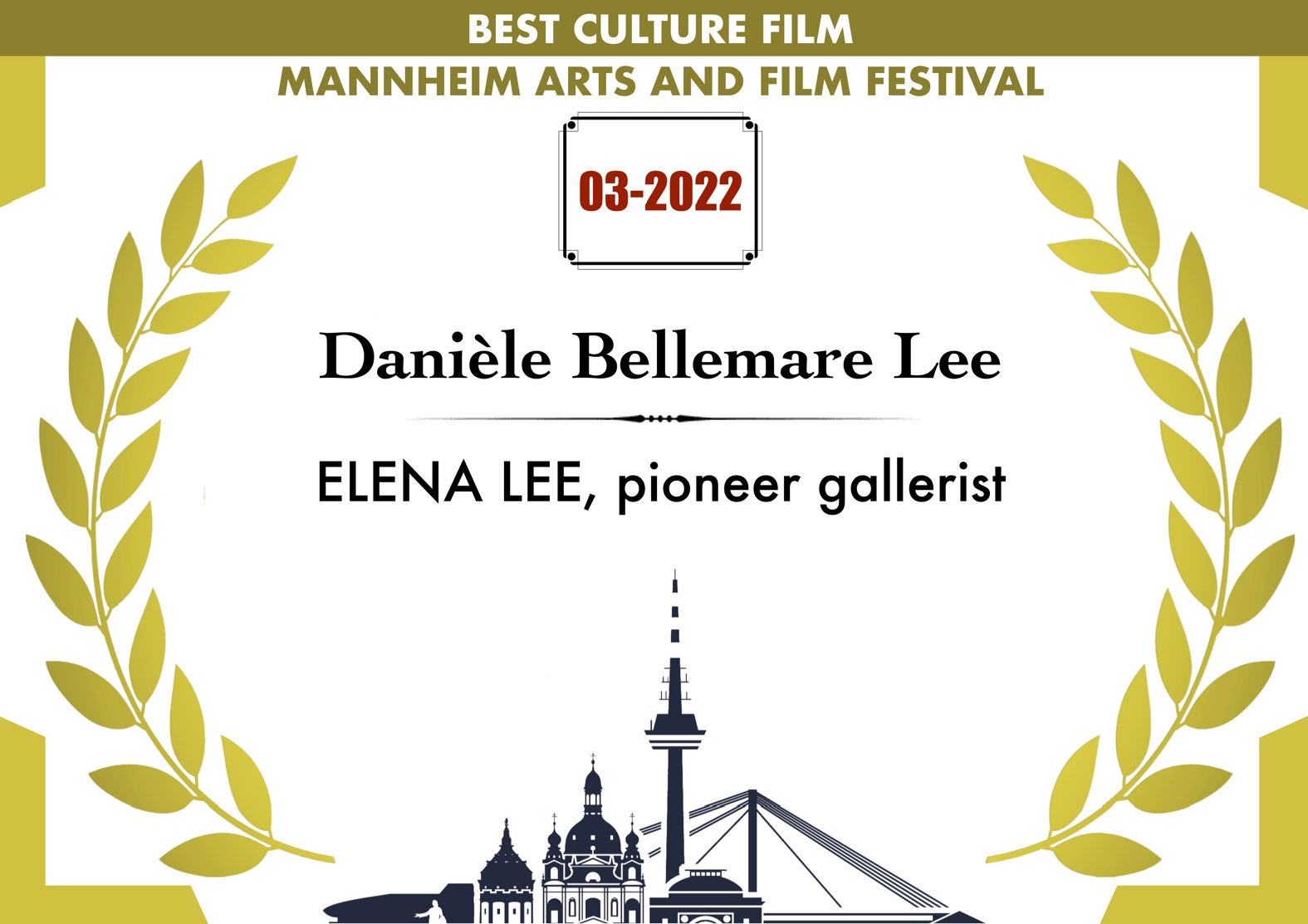 Von Narren und Hexen ... (Of Jesters and Witches ...)
Ethnological documentary - 2014 - Duration: 108'
Regie: Danièle Bellemare Lee, Assistant: Mark Lee.
Camera: Danièle Bellemare Lee and Mark Lee.
Editing: Danièle Bellemare Lee. Music: Nancy Carney, Sylvie Payette, Johannes Kayser and Thomas Frick.
With: Jürgen Hohl (Expert), Andreas Reutter, Klaus Müller †, Maria Hipp †, Martin Hipp, Christoph Stehle, Rudolph Hämmerle, Markus Würstle, Andreas Bachmann.
Synopsis
Exhibits
Von Ort zu Ort - Robert Schad (From place to place)
Documentary 2019
Exhibit by Robert Schad - Städtische Galerie Fähre Bad Saulgau
July 6th - September 1st 2019
The film was also presented during Gallery crawl in Ravensburg and in the exhibit artgerechteHALTUNG.
Synopsis
Begegnungen
Exhibit Markus Meyer with a portrait film from Danièle Bellemare Lee about him and his work.
July 3rd 2017 - August 7th 2017
Volkbank in Ravensburg, Marienplatz 36


Comme une étrangère (Uprooted Home)
Art film - 2012 - Duration : 11"
Director : Danièle Bellemare Lee.
Concept: Danièle Bellemare Lee and Janne Reuss.
Text : Danièle Bellemare Lee. Singer: Anne Guilbault.
Music: Anne Guilbault and Nancy Carney.
Arrangement : Rémi Morissette
Synopsis
Burn out
Art film - 2012 - Duration : 4' -
Director: Danièle Bellemare Lee et Susanne Allgaier.
Voice and original music: Anne Guilbault and Lucie Moisan.
Synopsis
Motion Painting concepts
Exhibit: "In Beziehung treten" (establishing relationships)
Maria Niermann-Schubert and Danièle Bellemare Lee
Painting and video
September 20th - November 22nd 2012 - Justitia-Kunstverein-Landgericht Ravensburg.

Danièle Bellemare Lee brings acrylic paintings of Maria Niermann-Schubert to life. She sheds a different light onto Maria's work, she takes the painting's symbolic figures, and creates video clips. Both works become interdependent and co-exist, completing each other. These videos are called "Motion painting", because a single painting is the main actor of each individual clip.

The "Motion painting" series is composed of four clips:
Special projects and short films
Schau genau! Kunst und Natur
Documentary - 2012 - Duration: 21" 17'
Danièle Bellemare Lee
Project selected and financed by Stiftung Ravensburger Verlag.
Synopsis
Unter Wasser Welten
Documentary - 2011 - Duration: 46' - Danièle Bellemare Lee.
Project selected and financed by Stiftung Ravensburger Verlag.
Synopsis
Le Retour
Interview - 2011 - Durée : 14′30″ - Réalisation : Danièle Bellemare Lee.
Synopsis